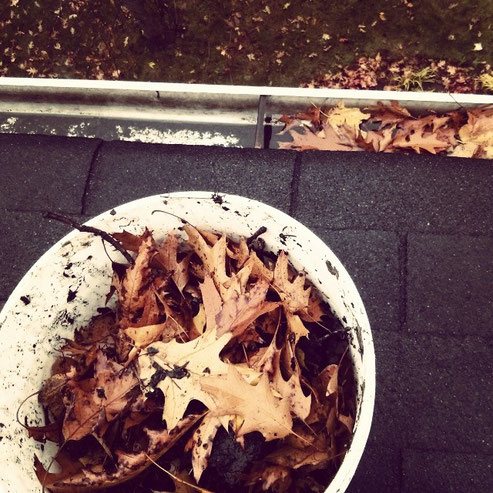 Spring is officially here, which means spring cleaning is in full swing! 
This is the time of year when homeowners start reaching out to us for their exterior home maintenance services.  You may be wondering whether or not you should add eavestrough cleaning to your service plan this spring.  In today's blog post, we will discuss the importance of cleaning out your eavestroughs, the recommended frequency and details on how an experienced, professional eavestrough cleaner can help you.
Why cleaning your eavestroughs is important 
Unfortunately, many homeowners often wait until there is a problem with their gutters to get them cleaned.  This can be a costly mistake.  When debris and leaves build up in the gutter, it traps water, causing the gutter to eventually rust and deteriorate.  Eventually, the excess rain water will pour out the sides of the gutter and down the sides of the house which may necessitate expensive repairs to the exterior of your home.  In the winter months, if the water doesn't drain from the gutter it can lead to a significant build-up of ice, weighing down and causing permanent damage to the gutter as well as your roof.  At times we have even found that small animals or insects have built nests in gutters, creating another unique challenge.
All of the above issues can be avoided by ensuring that your gutters are cleaned on a regular basis.
Frequency of eavestrough cleaning
Most eavestrough installation companies suggest that you have your gutters cleaned twice a year, at the beginning of spring and beginning of fall.  If you have your eavestroughs cleaned in the early fall months, the leaves will still be dry and easier to remove.  Cleaning the gutters in early spring will ensure that water brought in during spring rain will flow freely through the gutter system. Of course, other factors may require an adjustment to the frequency of your eavestrough maintenance, such as the amount of trees surrounding your home.  In this case, you may need to clean your gutters on a more frequent basis.
Cleaning your eavestroughs is a time consuming and physically challenging job. If you do not have the time or the interest in carrying a ladder around your home to clean your eavestroughs, let us to do the job for you.  At Aqua Reach Window Cleaning, we remove all debris by hand and fully flush your downspouts to ensure that there are no remaining blockages. Contact us today for our competitive eavestrough cleaning prices!